Creating a new and engaging sales channel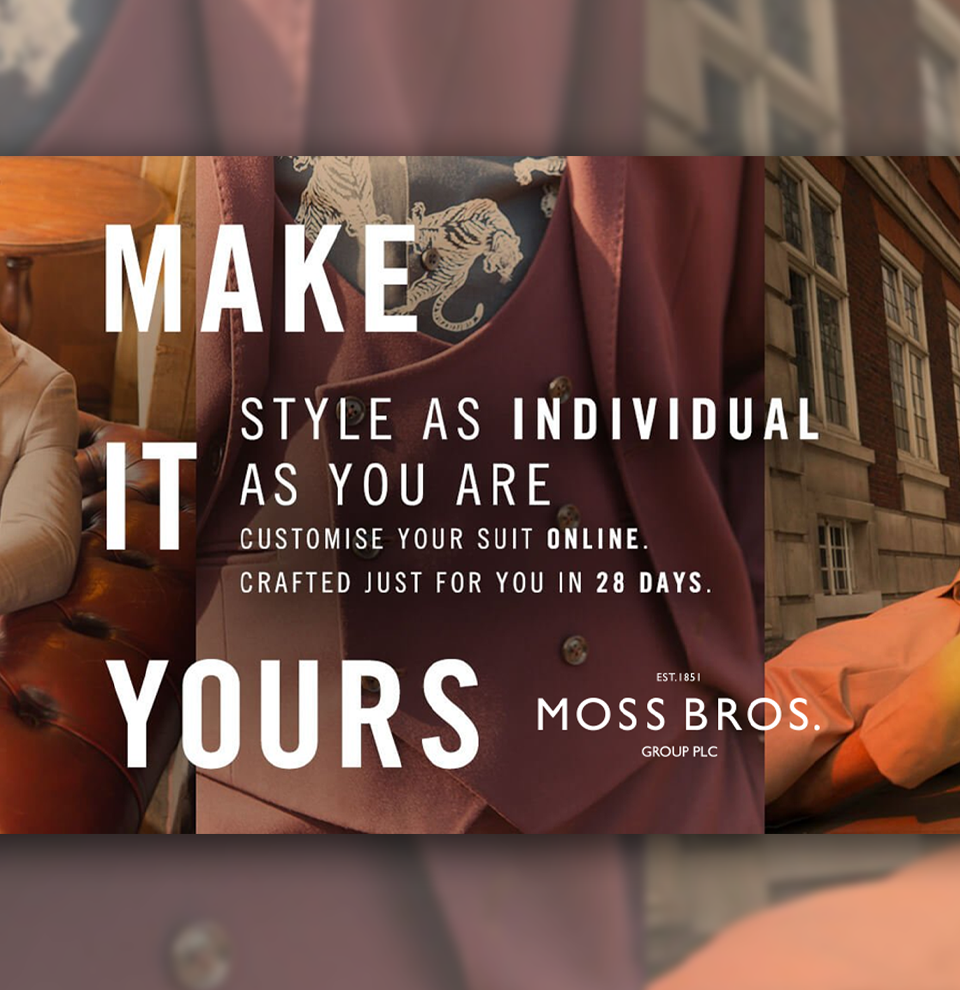 The Background
Moss Bros is one of the UK's top menswear shops specialising in dress wear for formal occasions.
Allowing clients to bespoke their outfits  has been something  Moss Bros has been offering for a while, accessed via their retail stores  'tailor me' service. As more shoppers migrated to researching clothing on their website, Moss Bros made the decision to let consumers customize their outfits online and then book an appointment in their local store to finalise the sale.
This facility was popular, but customer feedback also suggested that many customers were happy to buy straight away online, leaving out the store visit. Moss Bros and Kit Builder rose to the challenge and built a fully integrated online solution, the Moss Bros 3D Customizer. This has proved very successful and became even more important when stores were closed due to the COVID pandemic.
The Kit Builder Solution
Moss Bros required a high level of customization due to the number of elements making up a formal outfit, and the detail that could be specified on each, such as button type, stitching, pattern, colour, pocket trims, monograming etc. This level of personalisation all lead to the individual being able to create something very unique, and the Kit Builder functionality made this simple and fun.
Due to the versatile nature of Kit Builder, the development team worked alongside Moss Bros to integrate technology and create a branded and seamless online journey.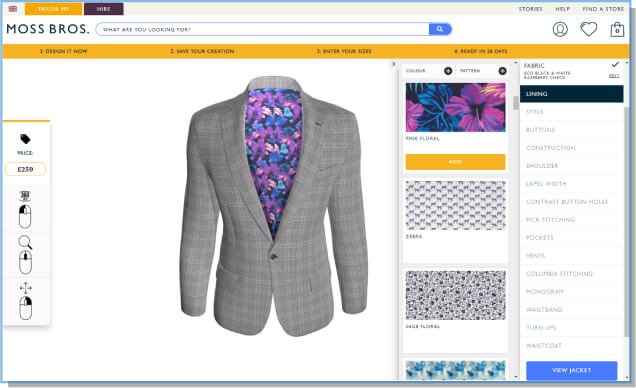 Due to popular demand we fully automated the customized outfit offer and allowed customers to design and buy online. This has opened up an entire new sales channel for us with outstanding results.
To generate further interest, we ran a social media competition to win a suit. Consumers were so engaged they shared their designs, spreading the word. When we announced the winner and let the other entrants know, many responded by buying anyway, in fact we made more in one day than in the previous month! – that's the power of customization and social media.
Thanks to Kit Builder and their development team we were able to simplify what was a detailed customization requirement and along with the very realistic 3D visuals, it allowed our customers to buy with confidence
Matt Henton Head of Ecommerce - Moss Bros Group PLC
Let us show you how

enhances your business