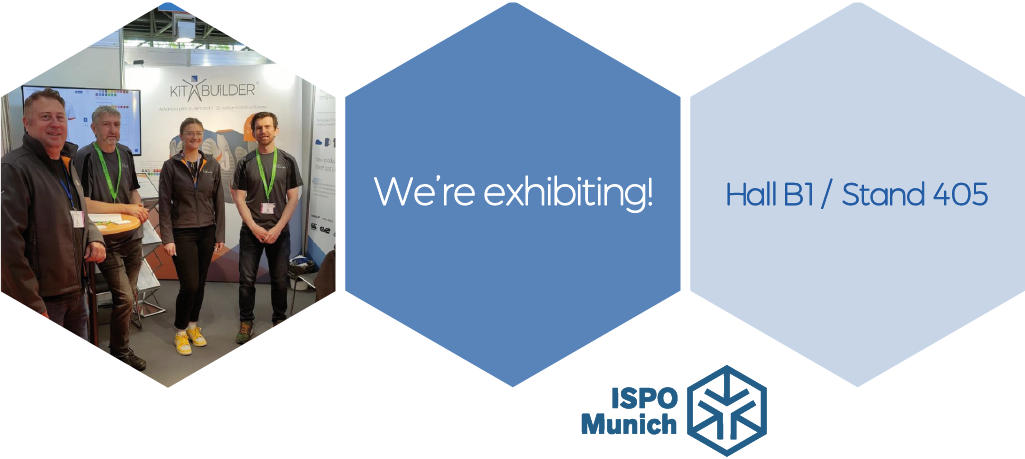 Kit Builder is going to be at ISPO Munich!
Come see us at the Trade Fair Center Messe München from the 28th to the 30th of November
Kit Builder at ISPO Munich 2023 – A New Perspective on Sports
ISPO Munich unites the worldwide sports business community, fostering the exchange of ideas and influencing the industry's future direction. Over 1,600 exhibitors present cutting-edge products, offering a glimpse into the potential of the sports world ahead. The event features a variety of activities, themed areas, and chances for networking, allowing you to engage with peers and gain fresh insights into the sports industry.
In hall B1 / Stand 405, Kit Builder is set to revolutionize the way you approach your business.
Future Lab: Creating future solutions for the sports industry today
The Future Lab is comprised of six themed hubs dedicated to innovation and transformation within the sports industry. Kit Builder is situated at the heart of this hall, that emphasizes the creation of forward-looking solutions. The Kit Builder solution offers an exciting way to innovate your business and take a step towards the future. Join the Future Lab for a three-day experience brimming with fresh inspiration, thought-provoking presentations, and interactions with industry leaders and experts on one of the stages.
Kit Builder: Transforming the Customization Landscape
Kit Builder is a versatile online tool designed to facilitate the effortless creation of customized sportswear and items. With it's intuitive interface, Kit Builder simplifies the design journey for both yourselves and your clients, empowering individuals, teams, and organizations to craft their ideal products. Users have the freedom to mix and match elements, resulting in the production of unique jerseys, shorts, and other attire that perfectly aligns with their preferences and branding. Whether it's for sports teams, educational institutions, or businesses, Kit Builder streamlines the ordering process, offering a cost-effective solution for personalized items.
Why Kit Builder at ISPO Munich Matters?
Kit Builder's presence at ISPO Munich's Future Lab is more than just an exhibition; it's a significant opportunity to interact with industry leaders, entrepreneurs, and sports enthusiasts. Here's why you can't afford to miss it:
1. Cutting-Edge Technology:
At Kit Builder, we're early adopters of the latest online customization trends. Join us at Stand B15 to witness firsthand how our advanced software can revolutionize your printing processes. Experience the future of your business with live demonstrations of innovative solutions.
2. Expert Guidance:
Our Kit Builder team is here to answer your questions and provide personalized support. Whether you're looking to upgrade your existing software or implement new solutions to your business, we have the knowledge and experience to help you make well-informed decisions.
3. Tailored customization:
One of Kit Builder's standout features is its commitment to customization, in more ways than one. Easily adapt Kit Builder to cater to your business's distinct requirements. With our solutions, you can unlock countless opportunities to design personalized printing solutions that suit you.
4. Exclusive Offers:
Don't miss out on our exclusive offers and discounts, available only to The Print Show attendees. Take advantage of these limited-time opportunities during the event.
Kit Builder: Innovators in Customization
Embrace the future of customization with Kit Builder in Hall B1 / Stand 405. Whether you're a seasoned professional or just embarking on your print production journey, our expertise and innovative solutions will inspire and empower you.
Save the date for ISPO Munich 2023, taking place at The Fair Trade Center Messe München from November 28th to 30th. Be sure to visit Kit Builder in Hall B1 / Stand 405—your printing business's future success starts here!
Don't forget to drop by and see us if you're attending the event!
If you're not and would like to you can register for your ticket below – or drop us an email and we can help!
If you'd like to hear more about Kit Builder please don't hesitate to get in touch or book a demo! 
or maybe you want to check out Kit Builder today and try it for yourself:
Let us show you how

enhances your business