Locker Room: A must-have for your 3D customizer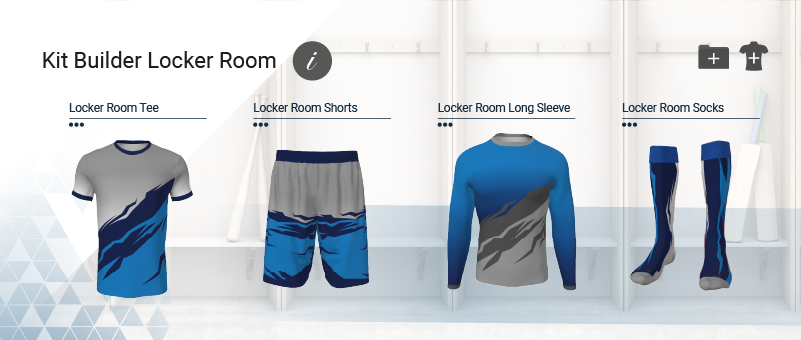 Log-in to Locker Room* to save, edit, copy and organize designs
Here at Kit Builder, we know how long it can take clients to get their club kit design exactly right before they order – and we understand how important your repeat custom is to you! 
So… to solve this issue we've created Locker Room – a log-in area to save, edit, copy and organize your designs. 
With Locker Room, you simply log in, create the Kit you want, and hit save. 
The best part? Your clients can return at any point and reorder the same Kit.  
We also understand that things change – maybe the team has new sponsors or a new logo that needs updating. By using the edit function your clients can make any changes they need before resaving the design.  
Instead of overwriting a design to make changes – use the 'Copy design' function to create a quick duplicate and keep the original design. 
No more losing older versions or variations, set up similar home and away designs in seconds! 
Kit Builders Locker Room allows your clients to share their saved products with friends with the click of a button. This might be handy for approval from the rest of the team or useful in club marketing materials.
On the same note, you can also download the Marketing PDF for each product directly inside Locker Room.  
We have made it super easy for clients to reorder these products by adding 'Request a Quote' and 'Buy Now' buttons per product. It's never been easier to reorder each season! 
It can become quite overwhelming when multiple clubs are being ordered from one account. To help with this issue, you can also add folders to help keep everything organized and easy to use.  
Both internal staff members and your customers can use Locker Room to save admin, designer, and production resources. 
Make your process as easy and convenient as possible for your clients with Kit Builder Locker Room, by giving them their own area to save, edit copy and organize their designs and Kits! 
Get in touch to enquire about Locker Room today and make your customer process as easy and convenient as possible
Click Here to Book a Demo with one of our team – see hwat Kit Builder can do for you!
*A minimum of a professional level Kit Builder is needed for this feature to work. Please speak to your account manager if you wish to upgrade an existing Kit Builder to include this feature. 
Let us show you how

enhances your business