Take a load off with pre-loaded galleries!
Take back control over low-res client uploads with Kit Builder!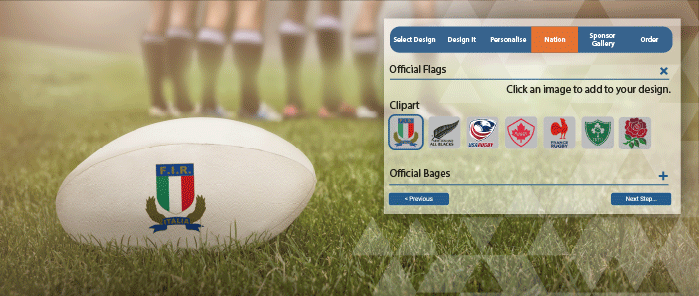 Add some consistency back into your process with Pre-loaded galleries and Kit Builder.
Pre-loaded galleries on Kit Builder can help in a range of different ways. Maybe you want to limit the level of customization a client can have, or maybe you just want to make the journey as easy as possible. There are lots of uses for pre-loaded galleries and they all put the control back into your hands!
Adding a pre-loaded gallery allows you to, as the name suggests, pre-load a range of content that your client can then choose from.
It is easy to add design content to a product with our tile pickers, however, using a pre-loaded gallery gives the content Kit Builder editor functionality.
This means the client can click to select an option and then scale, rotate and move it as they please – and as it works like an editor you can disable any of these functions as normal. The choice is up to you!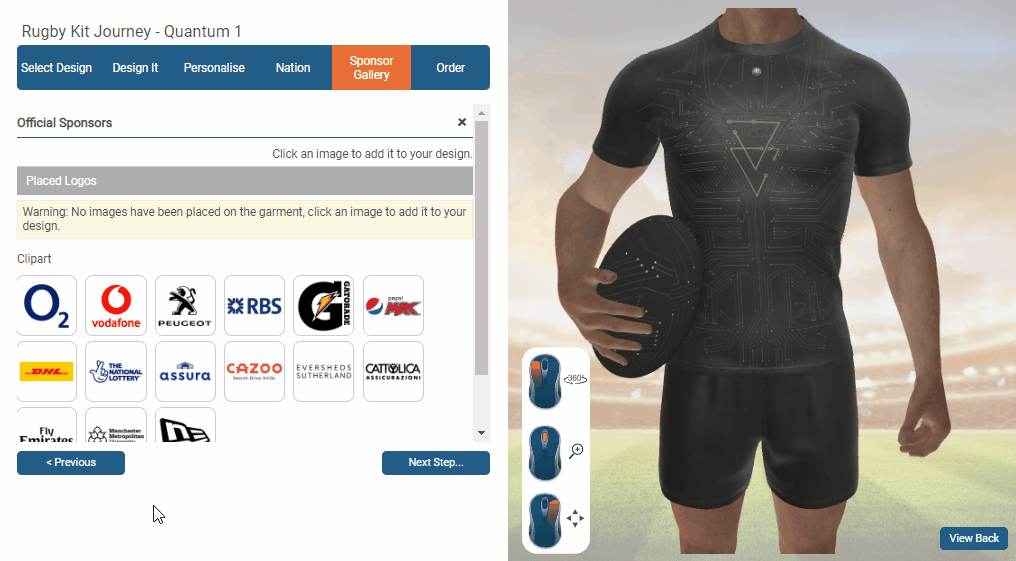 This function works really well with content such as flags. This is because you can pre-load all the most common flags for a particular sport onto a product for your client to choose from. Thus ensuring that the flags will be of a quality and size that works best for you and you do not need to worry about stretched or pixelated images. This could really cut down on your production or quoting time!
We also see this function used for sponsor galleries. In this product, we have added a selection of common rugby sponsors for you to pick from. These are all good-quality images and look good on our model and outputs.
In this section of the journey, we've also added some sponsor backgrounds to help block out areas for logos. This can be really handy to ensure sponsor logos are visible. These have been added using a normal tile picker and a data source.


If you're interested in adding a pre-loaded gallery to your Kit Builder, please see the link below:
Please note this function uses our clipart feature. Please speak with your Account Manager to check if this is included in your plan.
If you are interested in learning more about Kit Builder and how it can help improve your business, please contact our sales team today – or take a look at our website for more info!
Let us show you how

enhances your business