Give Groups their own Identity with DTG
As we know people love the social identity of being part of a group. Whether it's a sports team, work club or big family holiday. By creating the groups 'look' via an online DTG product customizer, it's not only fun, but gives users their own creative freedom ……see more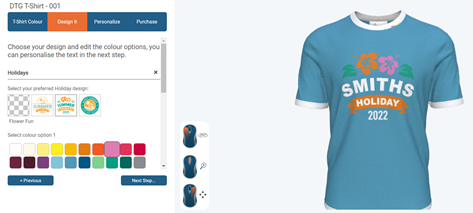 Give groups their own identity with DTG Direct to Garment customisation
As we know people love the social identity of being part of a group, whether it's a sports team, work club or big family holiday. An outfit or uniform is a natural extension of this identity.
How this gets created is important, more and more clubs and groups want the creative freedom to design it themselves, its more individual to them and of course the process can be fun and engaging. This is where online product customisation software excels…
Kit Builders DTG product customizer has been created with groups in mind, you can:
Easily load in your base garment templates and allow customers to select one
When creating new designs, its quick, you can just upload onto the template
Your designers can use illustrator
Print files can be automated (UNIQUE to Kit Builder)
Customer data can be loaded (e.g. all the names) and will automatically be added to their retrospective sizes. You only have to set up each size initially.
The product customer can:
Add logos and graphics
Personalise with the group or individuals' names
Upload photographic images
See the finished design in realistic 3D
Why not see the DTG offer in action or book a demo now?
Let us show you how

enhances your business